Ok, it isn't really Garnet and Gold but when you went to The Florida State University that is what Bravo Burgandy and More Mustard look like to you!!  While it wasn't an auspicious football year, at least we beat the Gators and that is something to cheer for (Gators, please hold your comments…it has been quite a while since we have won!).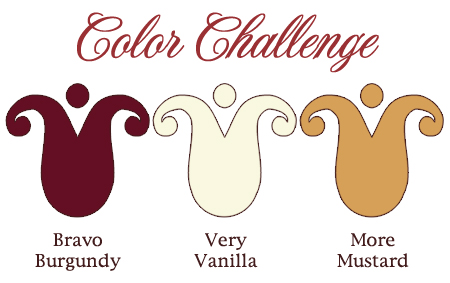 Alright, back on task…the challenge this week for the SUO Challenges is Embossing with a Color Challenge:  Bravo Burgandy, More Mustard and Very Vanilla.  The easiest way I know of to add dry embossing to a project is to pull out the Big Shot and there is no better way to add dimension to a simple layout than using the Square Lattice Embossing Folder!  For any new readers, this had been my favorite embossing folder and I have used it heavily since I bought it.  You just can't go wrong with it!  I stamped out some leaves from my Day of Gratitude set and stamped them in Mustard and Burgandy.  I cut one out and popped it up on Dimesionals and put on a sentiment from the same set. 
I tied on the button from the Regals Collection with some thread.  I took the thread and colored it with my Burgandy marker to give it that finished look.  Amazing how such a small (and easy) detail can complete the coordination!
I don't know about you but I get so focused on making all my Christmas cards that I forget about all the thank you cards I'm going to need after the holidays!  At least one is done now!  Don't forget to go see all the fantastic projects from the rest of the team at SUO Challenges…you'll be impressed with the wide variety of styles with this color set!  The challenge is open for two weeks so you should have plenty of time to join in.  Can't wait to see what you make!
I'll be back later this week with a beautiful card that I received Australia (imagine my excitement!)!!  Until then, have a great week!
Stamp:  Day of Gratitude (Holiday Mini); Paper:  Bravo Burgandy, More Mustard, Very Vanilla; Ink:  Bravo Burgandy, More Mustard; Accessories:  Vanilla Satin Ribbon, Regals Designer Buttons, Thread (non-SU)
All products are Stampin' Up unless otherwise indicated.